Money Adventure Mobile App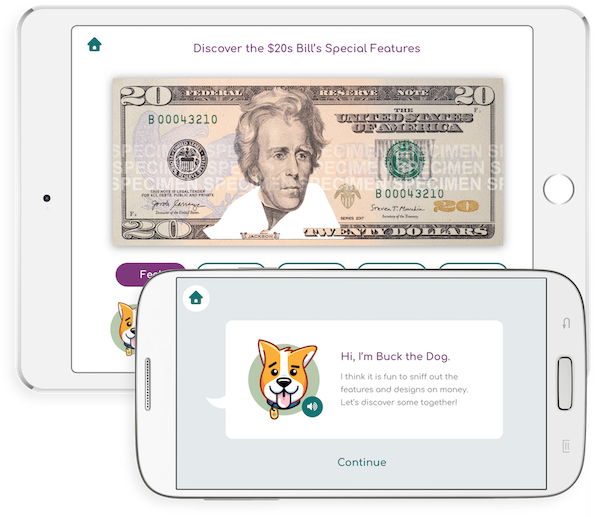 Money Adventure is a fun, interactive smartphone and tablet app that helps students learn about the security and design features of Federal Reserve notes. This digital tool brings learning to students' fingertips, making Money Adventure a classroom and at-home resource.
Money Adventure has two primary components—a note front explorer and a note back explorer. In the note front explorer, students can tilt and tap an interactive $20 bill to discover its unique features. In the note back explorer, students team up with Buck the Time-Traveling Dog on a quest through the historical events illustrated on the back of U.S. currency.
Download the App
Money Adventure is available for download on iOS and Android devices.
To download Money Adventure on your Android device, visit the Google Play Store. To download Money Adventure on your iPhone or iPad, visit the Apple App Store.
In the Classroom
We provide lesson plans in English and Spanish for teachers to use with the app in their classrooms. We encourage teachers to contact us should they have comments on how we might improve the Money Adventure lesson plans.
At Home
The app's many features and functionalities were built to be engaging and educational for classes at school and for kids at home.
Required Technology
The app requires an internet connection to download onto a mobile device. After download, the app is fully functional with or without an internet connection.
The iOS version of the app uses Augmented Reality (AR) technology. These AR features require the user to enable the device's camera. But no special accessories (such as headsets) are necessary. Users are also required to enable the device's camera in the Android version of the app.
Web-Based Classroom Content
Currency Academy, which is available in English and Spanish, contains a variety of educational resources for kids, including information about the origins of money.
Information about Coins
The Money Adventure app focuses on paper currency only. Educational information about minted currency like coins may be found in Currency Academy or at the U.S. Mint.

<!- /.l-page-content ->