Federal Reserve Bank Seal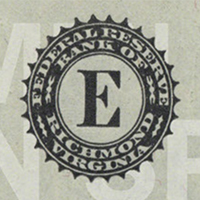 A black seal to the left of the portrait bears the name and corresponding letter of the distributing Federal Reserve Bank.
Treasury Seal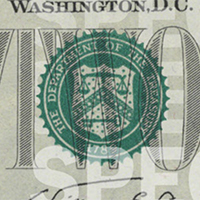 A green seal to the right of the portrait represents the U.S. Department of the Treasury.  The design of the seal was changed to incorporate an English inscription and appears on all Federal Reserve notes of the 1969 series year or later.
Portrait and Vignette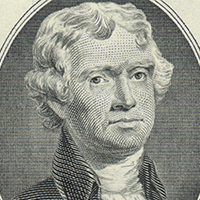 The $2 note features a portrait of Thomas Jefferson on the front of the note and a vignette depicting the signing of the Declaration of Independence on the back of the note.
Serial Numbers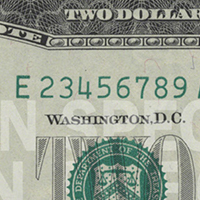 A combination of eleven numbers and letters appears twice on the front of the note. 
The back of the $2 Federal Reserve note features an engraving of John Trumbull's painting, "Declaration of Independence." Although the original painting depicts 47 men, space constraints meant that only 42 could appear on the note.
Downloads
These printable coloring sheets of denominations $1, $2, $5, $10, $20, and $100 are intended for children, parents, and teachers.
Explore security and design features of the $2 note, issued 1976-present.